TIME'S LOST SECRETS
What many don't know is that the Egyptians had two chronological documents that suggest a longer history that is currently accepted. There is a stone tablet called the Palermo Stone because it is housed in Palermo and the other is the Turin papyrus, which is a very Fragmented scroll.
Based on the revelations in the Palermo Stone and the Turin Papyrus, we now know there was in fact a history of kings preceding the Pre-Dynastic period. This hints at the notion that some of the precise geometric structures discovered in Egypt were not erected as late as modern academia holds.
Careful examination of these structures reveals the various layers that may have been laid over the course of generations, with much larger megalithic and stones at the bottom and the smaller stones above them.
If true, this supports the view that an apocalyptic world event may have destroyed these high societies not once, but several times over the course of a cycle of thousands of years. Yet their knowledge is said to have been passed on and it continues today.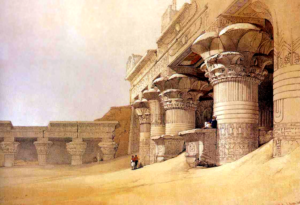 THE GREAT MYSTERY SCHOOL
When we examine the continuation of the Esoteric Mystery tradition, it becomes apparent that Akhenaton was instrumental is establishing an order to pass on the secrets.
Brotherhoods that consisted of priests identified and passed down through blood line are believed to have maintained the traditions, practicing and teaching in secret, during times when religious and philosophical persecution were the norm.
Initiates had to go through rigorous initiation rites and studied the celestial movements. Legend tells us that the origins of these Mysteries are traced back to Atlantis and passed down from an ancient Golden Age, surviving a pre-cataclyzmic era flood.
But few scholars discuss the tradition of the Essenes within the context of the Egyptian Mystery Schools. According to historians, Akhenaton's rebellion and his shift toward the worship of a single deity ultimately failed. But in truth, while the public was not receptive to the changes, it should be noted that several small groups carried on the teachings including what would later become the Rosicrucians and the Essenes. Mary, the mother of Jesus was one of the members of the inner circle of the Essene movement.
WE CORDIALLY INVITE YOU TO WATCH ANCIENT EGYPT MYSTERY SCHOOLS – EPISODE 03: SHADOW OF THE WISER
Get started on your path by clicking the button below: